At Red Lodge Mountain we take the safety of our guests and employees very seriously.  All skiers and riders are responsible for complying with the Responsibility Code and avoiding collisions with other skiers and riders.  Failure to adhere to our resort's policies and rules can and will result in a suspension or revocation of skiing/riding privileges. Please understand the below policies.
Responsibility Code
YOUR RESPONSIBILITY CODE 
Skiing can be enjoyed in many ways. At ski areas you may see people using alpine, snowboard, telemark, cross country, and other specialized ski equipment, such as that used by disabled or other skiers. Regardless of how you decide to enjoy the slopes, always show courtesy to others and be aware that there are elements of risk in skiing that common sense and personal awareness can help reduce. Observe the code listed below and share this Responsibility Code with other skiers for a great skiing experience.
Always stay in control and be able to stop or avoid other people or objects.
People ahead of you have the right of way. It is your responsibility to avoid them.
You must not stop where you obstruct a trail or are not visible from above.
Whenever starting downhill or merging into a trail, look uphill and yield to others.
Always use devices to help prevent runaway equipment.
Observe all posted signs and warnings. Keep off closed trails and closed areas.
Prior to using any lift, you must have the knowledge and ability to load, ride, and unload safely.
Skiers and riders should be advised that a green circle, blue square, or black diamond trail at one area is not necessarily the same as a similarly rated trail at another area. The system is a relative system that is only valid at this area. Skiers and riders should work their way up, beginning with the easiest trails, no matter what their ability level may be, until they are familiar with the trails at the area.
Be advised that all poles and/or flags, fencing, signage, and padding on equipment or objects, or other forms of marking devices, are used by the ski area to inform you of the presence or location of a potential obstacle or hazard. These markers are no guarantee of your safety and will not protect you from injury. It is part of your responsibility under Your Responsibility Code to avoid all obstacles or hazards, including those that are marked.
KNOW THE CODE. IT'S YOUR RESPONSIBILITY.
This is only a partial list. Be safety conscious. Your Responsibility Code is officially endorsed by the National Ski Areas Association.
Lift Safety
Be advised that you cannot board a lift unless you have sufficient physical dexterity, ability, and knowledge to negotiate or to use such lift safely, or until you have asked for and received information sufficient to enable you to load, ride, and unload the lift safely. You may not use a lift or any ski trail when under the influence of drugs or alcohol. Remove backpacks before boarding lifts. Check for loose straps and clothing.
Caution
Snowcats, snowmobiles, and snowmaking may be encountered at any time.
Slow Zones
Certain areas (highlighted on the map) are designated as SLOW ZONES. Please observe posted slow zone areas by maintaining a speed no faster than the general flow of traffic. Fast and aggressive skiing and riding may result in loss of lift ticket.
Helmet Use
Helmets are a smart idea. Red Lodge Mountain encourages you to educate yourself on the benefits and limitations of helmets. If you choose to wear one, please ski or ride as if you are not wearing one. Every winter sports participant shares the responsibility for his or her safety and that of others using the ski facilities.
Backcountry Riding 
Backcountry Exit Gates – Use Extreme Caution! You are leaving the ski area and subjecting yourself entirely to all the dangers and responsibilities the backcountry presents. The ski area assumes no responsibility for skiers or riders going beyond the ski area boundary. Areas beyond the ski area boundary are not patrolled or maintained. Avalanches, unmarked obstacles, and other natural hazards exist. Rescue in the backcountry, if available, will be costly and may take time.
Freestyle Terrain
Helmets are recommended. Freestyle terrain may include jumps, hits, ramps, banks, fun boxes, jibs, rails, half pipes, quarter pipes, snowcross, bumpy terrain, and other constructed or natural terrain features. PRIOR to using freestyle terrain, you are responsible for familiarizing yourself with freestyle terrain and obeying all instructions, warnings, and signs. Freestyle skills require maintaining control on the ground and in the air. Freestyle Terrain has designations for size. Start small and work your way up. Designations are relative to this ski area.
Look Before You Leap
You are responsible for inspecting freestyle terrain before initial use and throughout the day. The features vary in size and change constantly due to snow conditions, weather, usage, grooming, and time of day. Do not jump blindly. Use a spotter when necessary.
Easy Style It
Always ride or ski in control and within your ability level. Do not attempt freestyle terrain unless you have sufficient ability and experience to do so safely. You control the degree of difficulty you will encounter in using freestyle terrain, both on the ground and in the air.
Respect Gets Respect
Respect freestyle terrain and others. Only one person on a feature at a time. Wait your turn and call your start. Always clear the landing area quickly. Respect all signs and do not enter freestyle terrain or use features when closed.
Use of freestyle terrain exposes you to the risk of serious injury or death. Inverted aerials are not recommended. You assume the risk.
OUT-OF-CONTROL SKIING/RIDING
Red Lodge Mountain is seriously concerned about the safety of its skiers/riders. The Ski Patrol will issue warnings or remove privileges without refund for those who are acting recklessly or are out of control.
AUTHORIZED ACTIVITIES
Only authorized recreational activities are allowed on Red Lodge Mountain premises. All other activities, including sledding and tubing, are strictly prohibited.
23-2-736. MONTANA CODE ANNOTATED
Duties of skier.
A skier has the duty to ski at all times in a manner that avoids injury to the skier and others and to be aware of the inherent dangers and risks of skiing.
A skier:

shall know the range of the skier's ability and safely ski within the limits of that ability and the skier's equipment so as to negotiate any section of terrain or ski slope and trail safely and without injury or damage. A skier shall know that the skier's ability may vary because of ski slope and trail changes caused by weather, grooming changes, or skier use;
shall maintain control of speed and course so as to prevent injury to the skier or others;
shall abide by the requirements of the skier responsibility code that is published by the national ski areas association and that is posted as provided in 23-2-733;
shall obey all posted or other warnings and instructions of the ski area operator; and
shall read the ski area trail map and must be aware of its contents.

A person may not:

place an object in the ski area or on the uphill track of a passenger ropeway that may cause a passenger or skier to fall;
cross the track of a passenger ropeway except at a designated and approved point; or
if involved in a skiing accident, depart from the scene of the accident without:

leaving personal identification; or
notifying the proper authorities and obtaining assistance when the person knows that a person involved in the accident is in need of medical or other assistance.

A skier shall accept all legal responsibility for injury or damage of any kind to the extent that the injury or damage results from inherent dangers and risks of skiing. Nothing in this part may be construed to limit a skier's right to hold another skier legally accountable for damages caused by the other skier.
Equipment Policy
Red Lodge Mountain reserves the right to select the type of equipment allowed on RLM aerial and surface lifts and terrain. Skis and snowboards must have proper retention and/or braking devices. Sleds, tubes, snow skates, ski bikes, ski trikes, discs, toboggans, snow scooters, body sleds, or airboards are not permitted on RLM terrain or lifts. This list is not exhaustive and subject to change at any time. In addition, foot passengers are not allowed on lifts unless authorized by management 24 hours in advance.
Adaptive Equipment
Red Lodge Mountain permits specialized equipment1 to allow those with disabilities to access RLM lifts and terrain under the following conditions:
The person using the equipment must have a qualifying disability2 that requires them to utilize a special device to access lifts and slopes.
The equipment must be inspected by RLM and deemed to be safely operational when being loaded and unloaded on the aerial lifts, with minimum disruption to normal operations.
The equipment and person(s) operating/assisting must be able to control and stop the equipment in a safe manner.
Adaptive skiers may use a guide or personal assistant in order to ski safely, negotiate the lifts, or meet other conditions of the Skier Code. Guides and personal assistants may utilize specialized equipment to assist the adaptive skier in training and learning of adaptive skiing techniques.
If a person with a disability desires to access RLM lifts and terrain, but does not possess the proper equipment and training, the individual must make arrangements with Eagle Mount. Eagle Mount is an organization, independent of RLM, that specializes in assisting people with disabilities enjoy skiing and snowboarding at RLM. It provides specially designed equipment and adaptive techniques, along with the assistance of well-trained staff and volunteer instructors, for children and adults with disabilities. For more information, contact the Eagle Mount Ski Program, [email protected], or call (406) 969-2949.
1 – There is no express list of what type of equipment is considered specialized equipment for adaptive skiing access. Specialized equipment for adaptive skiers which meets all the conditions outlined in the Adaptive Equipment Policy will be allowed access at RLM. Reasonable accommodations will be provided to help disabled person(s) meet the policy.
2 – Skiers with a disability are persons meeting the definition contained in the Americans with Disabilities Act of 1990 as amended by the ADA Amendments Act of 2008, Section 12102, that substantially limits that person's ability to ski or snowboard, negotiate slopes/trails, or meet the general requirements to use passenger ropeways. This definition does not apply to impairments that are transitory, with an actual or expected duration of six (6) months or less.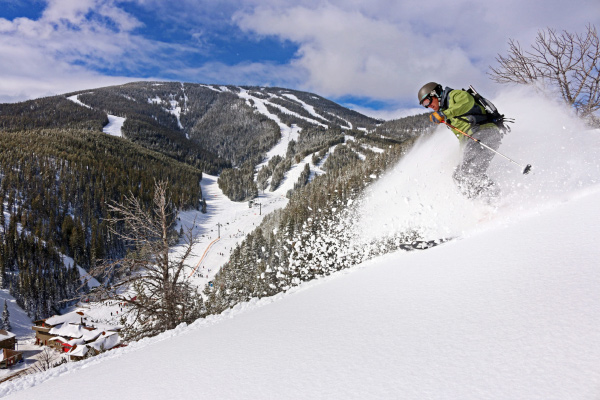 On-Snow Uphill Travel Policy
While uphill travel within ski area boundaries may seem innocuous, it poses significant safety concerns for uphill and downhill recreationalists, ski area operations, and ski area staff. Red Lodge Mountain's (RLM) policy reflects our commitment to seek a balance between mitigating the safety concerns of uphill travel in the downhill ski area boundary/Special Use Permit area with the reasonable needs of operating a sustainable and successful alpine ski area.
For your safety and the safety of our employees, all skiers, snowboarders, hikers, etc. who wish to travel uphill within RLM's ski area boundary during the open ski season must:
Sign our Uphill Travel Policy Agreement
Visibly wear the issued armband during uphill travel. (No fee for armbands. Can be worn on the left or right side.)
Please Note: No changes have been made to last season's policy.  Armbands and written agreements are valid until further notice.  
Agreements can be signed and armbands obtained at Grizzly Peak Outdoors (24 S. Broadway, Red Lodge) and, during the open ski season, the inside window of RLM's ticket office.
The armband issued to you is only for your use, and lending it to others may result in the loss of uphill travel privileges. Armbands are dated, but you may continue to use until policy changes dictate a new agreement and armband issuance.
REGULATIONS FOR UPHILL TRAVEL DURING THE OPEN SKI SEASON (Opening Day through Closing Day)
Uphill travel can only occur between the hours of 4:30 pm and 9:00 am.
Routes
All uphill travel is limited to these 2 routes (uphill travel elsewhere on RLM is prohibited), and travel must occur on the far edge of the ski trails:
Remaining always on lookers left: Show Off Alley to Chicken Trail to Lazy M to Grizzly Peak Summit.
Beginning on lookers left: Show Off Alley to Otto Bahn. As Otto Bahn passes Ladies Aid, move to lookers right and continue from Otto Bahn to Turnpike to Midway Chalet.
All downhill travel must occur on an open run.  Because of the potential for winch cat grooming, downhill traffic is prohibited at all times on the following runs:
Face of M, Little Tree, Pine Ridge, Big Silver, Upper Limited, Lower Limited, Royals, Drifter, and Latigo.
Travel is prohibited (uphill or downhill) on any run on which snow making equipment is operating, and on any runs that are closed to the public.
General
Dogs are not permitted on the mountain during the open ski season. This rule encompasses any time before, during, or after operating hours.
Do not travel uphill with more than 2 people abreast.
Use of all Terrain Parks is prohibited outside of normal operating hours.
For your safety, it is strongly recommended that you wear reflective clothing and/or lighting to improve your visibility to our groomers and mountain staff on snowmobiles.
Overnight use of RLM's Hancock Hut (Summit Ski Patrol Station) requires advanced permission. If you plan to stay overnight, you must contact RLM (406-446-2610) to verify there will be no conflicting mountain operations that could compromise the safety of employees or guests.
Hazards
Yield and give a wide berth to ski area machinery, i.e. grooming machines, snowmobiles, and snowmaking equipment. Do not assume operators see you.
Snow making utilizes high pressure water hoses and high voltage electrical lines. These items constitute a substantial risk and may be concealed by new snow. Do not ski over hoses or power cables.
Avalanche Danger and Explosives
Avalanche danger may exist at any time along many of the uphill and downhill routes.
Following any amount of new snow, and possibly wind, the Ski Patrol may conduct avalanche control work, including the use of explosives. On such mornings, please look for the flashing red light on the left side of the entrance gate, which indicates UPHILL TRAVEL IS PROHIBITED. Avalanche control updates will also be posted to the snow report page of the RLM website by 5:30 am.
Failure to adhere to any of these regulations may result in loss of uphill travel privileges.
PRE AND POST SEASON REGULATIONS FOR UPHILL TRAVEL 
There are no uphill or downhill route or time restrictions in place, but please use extreme caution and be aware of the following:
Public using the ski area at this time assume all risks for their activities including route selection, stability analysis, and all other activities. Ski area improvements, including rails and jumps, are prohibited from use.
Unmarked hidden obstacles will exist under the snow.
Groomer and snowmobile traffic are often active on the mountain during the pre and post season.
Snowmaking and the moving of snowmaking equipment will occur during the pre-season.
Dogs are not restricted during the pre and post season, however we ask that you clean up after your dog, and because mountain equipment is often active, please have your dog leashed or under very good verbal control.
DRONE/UAV POLICY 
Due to safety concerns for guests, employees, and resort property, as well as concerns for individual privacy, Red Lodge Mountain (RLM) prohibits the operation or use of unmanned aerial systems, or drones, by the general public – including recreational users and hobbyists. This prohibition includes drones used for filming or videotaping, as well as any drone use by media or journalists operating above or within RLM property, boundaries, or Special Permit Use lands owned by the US Forest Service.  This extends to drones launched from private property outside of the RLM boundaries but flying over RLM property. Violation of this policy may result in suspension of your skiing or snowboarding privileges, revocation of your season pass, legal responsibility for damages, including privacy and/or physical or personal injuries or property damage, as well as regulatory fines and legal fees.
HANCOCK HUT
The Hancock Hut is located at the top of Grizzly Peak and houses our summit Ski Patrol station. The hut is available for overnight use with advanced permission from Red Lodge Mountain Management. Please observe and follow the usage guidelines below:
 OVERNIGHT USE REQUIRES ADVANCED PERMISSION.
Please contact Red Lodge Mountain (406-446-2610) to verify availability for overnight stay. Please note that unexpected cancellations, though rare, can occur.
RESPECT THE FACILITY.
Red Lodge Mountain Ski Patrol is based out of this facility, where medical equipment and supplies are stored for responding to emergencies. Equipment and supplies

must not

be tampered with. Do not use Red Lodge Mountain property for sledding.
AMENITIES.
Please help yourself to the microwave, griddle, games, cards, shovels, and wood stove. Please use the equipment appropriately and be sure to clean up.
CLEAN UP.
During operating season, trash must be disposed of in the garbage can located inside the building.


Outside of ski season, trash must be packed out.

 Rodents love to feast and ruin. Please help us keep them at bay.
RESTROOMS.
Restrooms are located behind the large trail map. If you prefer relieve yourself in the trees, please do so away from the building.

Do not urinate off the deck.

Yellow snow is not an inviting setting for our day users who are there to enjoy nature's beauty.
WOOD STOVE.
Help yourself to the firewood and wood stove. Use caution and be careful not to burn the place down. When you leave, please replenish the indoor wood pile with the chopped wood located on the deck.
ENJOY.
Thanks for following the rules and helping us keep this hut available for public use.
 SERVICE Animal POLICY
Red Lodge Mountain supports the use of trained service animals. All service animals must meet the current ADA guidelines which include, but are not limited to: remaining under the direct control of the user at all times, be house broken and be trained and utilized to perform a specific task or work for a person with a disability according to ADA regulations.
The use of service animals is permitted within buildings and facilities located in the Base Area. The use of service animals (including miniature horses) on lifts, trails and slopes directly conflicts with Red Lodge Mountain safety requirements and impedes the reasonably safe operation of Red Lodge Mountain on slope activities. Red Lodge Mountain restricts the use of animals on lifts and slopes to dogs, specifically trained, or in the process of being trained for avalanche search and rescue work and which are under the control of Red Lodge Mountain personnel. These safety concerns include the real potential for conflicts between service animals and skiers and riders, and are compounded by the large volume of slope and trail use. These safety requirements are
based on actual risks and are not intended to be discriminatory in any way.