A great day of skiing is made better with good food and drinks shared among good friends.  With 3 dining options on the mountain ranging from table service to cafeteria style,  you're sure to find something to suit your taste.
The Main Lodge
Open Daily | 8:00 a.m. – 4:00 p.m.
Located in the Base Area
Cafeteria-style service and seating for up to 300 makes this base area lodge an easy gathering spot for singles or groups. You're also welcome to enjoy your own sack lunch in our loft area.
Midway Chalet
OPEN DAILY | 10:00 a.m. – 3:00 p.m.
Located Mid-Mountain
The scenic backdrop of our mid-mountain lodge atop the Willow Creek chairlift can't be beat. Ski in for burgers, sandwiches, beverages and snacks under vaulted ceilings, while enjoying views of five mountain ranges and the comfort of our huge stone fireplace.
Bierstube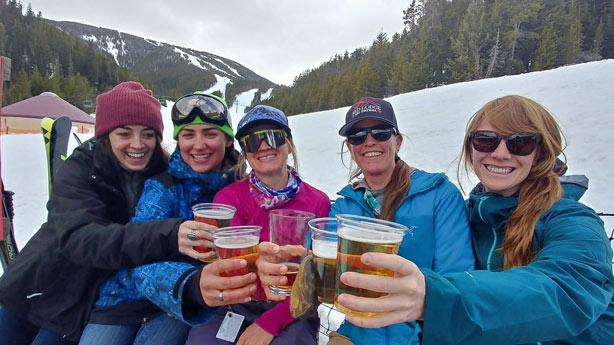 oPEN DAILY BEGINNING AT 10:00 a.m.
Located in the Base Area
A popular and friendly gathering place throughout the season, the Bierstube offers hearty pub fare and ten beers on tap. Take advantage of warm, sunny days on the deck. And on Saturdays throughout the season, enjoy complimentary live music from 3:00 – 6:00 p.m. For extra entertainment, ask about our infamous "shotski" – a Red Lodge Mountain tradition at least as long as the 9-foot ski itself!