Lodge Seating is for Food & Beverage service only.
We understand that this will be a tough one, especially when the bitter cold Montana weather hits.
Indoor food service will only be permitted if there are seats available, otherwise you will need to wait outside until a table opens up. And in all dining spaces, stay with your party. Mingling with other groups or tables will not be permitted.
Be courteous to your fellow skiers and riders by limiting your time indoors, so that others can come in to eat and warm up. Lengthy reserving or holding/saving tables for others will not be permitted. During our busy days, consider adjusting the time of your lunch to avoid the rush and get seated immediately.
Bierstube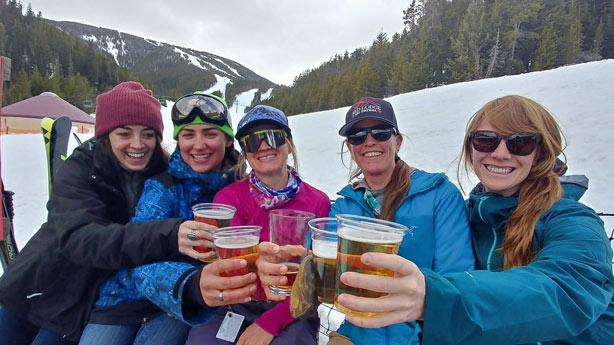 Reservations are strongly recommended.
A popular and friendly gathering place throughout the season, the Bierstube offers hearty pub fare and ten beers on tap. Take advantage of warm, sunny days on the deck! The Bierstube will be open 7-days a week and a host will seat you and your party. 
The Main Lodge
Open Daily | 8:00 a.m. – 4:00 p.m.
Cafeteria-style service 7 days a week.
Main Lodge Seating is for food & beverage service only.  A host will seat you and your party this season. After you are seated, you can view the menu at your table, and send one representative from your party to go through the cafeteria line.
Midway Chalet
OPEN DAILY | 10:30 a.m. – 3:00 p.m.
Located at Mid-Mountain
Lodge Seating for food & beverage service only.  A host will seat you and your party this season.
The scenic backdrop of our mid-mountain lodge atop the Willow Creek chairlift can't be beat. Ski in for burgers, sandwiches, beverages and snacks under vaulted ceilings, while enjoying views of five mountain ranges and the comfort of our huge stone fireplace.
Prerogative Kitchen in the Yurt
Open Weekends & Holidays 
Grab & Go Menu Items 
Local favorite, Prerogative Kitchen, based out of downtown Red Lodge will be joining us in the Yurt! Stop by the window to snag some of their grab & go eats.
Main Lodge Express Window
Open Friday-Sunday & Holidays | 8:00 a.m. – 4:00 p.m.
Grab & Go Menu Items 
The Express Window is located on on the deck of the main lodge for quick grab and go items that can be eaten at a picnic table, on the lift, or in your vehicle.