We are currently working on new COVID operating procedures for the season with increased disinfecting and distancing protocols in place. Operations will certainly look different compared to any other year, but we'll still have the same great skiing and riding as always.
The COVID operating plans will closely adhere to all guidelines set forth by Local and State health authorities, as well as the CDC. Please note that even in spite of our best efforts, it is still possible to transmit or contract the Coronavirus while on the premises. All individuals who are considered high-risk should consult their medical providers and employ extra caution while on site.
If you are planning a visit from out-of-state, we encourage you to review travel guidance from both your local health authority as well as the state of Montana. 
Any individuals who are experiencing symptoms of COVID-19 should abstain from visiting all Red Lodge Mountain properties.
Know that we all need to work together to prevent the spread of COVID so that we can have a full and epic ski season.
The Mountain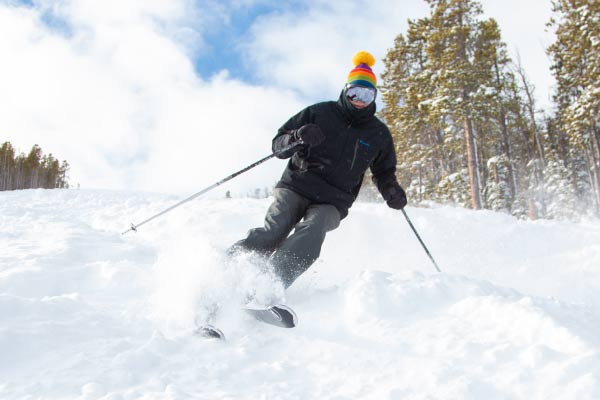 Opening Day is set for Friday, November 27, 2020. 
Face Masks are required for guests ages 5 and older.
Banquets, Weddings, & Events
View Changes to Our Policies & Operations
 POLICIES & OPERATIONS 
Face Masks 

are required when indoors (This is a government mandate and can result in a $500 fine/person. No exceptions to this rule).

 

Maximum 

guest count of 50

No Dancing

 
PREVENTATIVE MEASURES WE'RE TAKING TO PROTECT OUR GUESTS, STAFF, AND COMMUNITY: 
Increased 

disinfecting

 of frequently touched items, benches, and door handles

 

All 

staff 

are required to

 wear face masks

 

All staff members 

are required to 

complete a daily wellness check each morning prior to coming to work. Those feeling ill or exhibiting symptoms of illness are instructed to stay home.

 
Golf Course
Per the Governors mandate, all guests are required to wear a face mask while inside the Pro-Shop.
LINKS TO ADDITIONAL INFORMATION
FREQUENTLY ASKED QUESTIONS
View the answers to our frequently asked questions
I HAD A SEASON PASS FOR THE 19/20 SEASON. WHAT DO I GET?

We want to acknowledge how disappointed we are that the season didn't end like any of us had planned. Season Pass holders from the 2019/2020 season will receive a loyalty discount on 2020/2021 season passes, as well as:- Two (2) demo vouchers, to be used during the 2020/21 season (not valid 12/26/20 – 1/2/21)- Two (2) lift tickets, to be used during the 2020/21 season (not valid 12/26/20 – 1/2/21)*Loyalty discounts and added perks not applicable on 5 & Under Passes
I HAD A 6-TIX OR 4-PACK FOR THE 19/20 SEASON WITH UNUSED DAYS. WILL I BE ABLE TO USE THOSE DAYS NEXT SEASON?

6-Tix and 4-Pack holders from the 2019/2020 season who used their 6-Tix/4-Pack more than once, but less than the full amount, will have those unused days rolled over to the 2020/2021 winter season. These days must be used by December 25, 2020. To redeem your rolled over days, you can reuse the same pass/card you had during last season.6-Tix and 4-Pack holders from the 2019/2020 season with zero days used, will have those products rolled over for use any time during the 2020/21 season. To redeem your rollover, please visit the ticket office or Grizzly Peak Outdoors to have your new pass/card printed at no expense to you
IS UPHILL TRAVEL ALLOWED AT THIS TIME?

The access road to the mountain will reopen on Tuesday, April 28. Uphill travel will be permitted at this time, however, we are advising against it at our ski area. Please know that your choice to come up could put others at risk and potentially put unnecessary strain on our local emergency services.Please note: –  The Hancock Hut is closed until further notice. –  The base area at RLM is private property. No loitering or congregating in the parking lots or deck areas. –  There are no bathrooms or facilities available. –  The use of snowmobiles, snow machines, Timber sleds, ATV's, or any other motorized vehicles is prohibited at all times. –  Uphill travel is at your own risk. Potential hazards could include, but are not limited to, avalanches, road cuts, unmarked man-made and natural hazards. There will be no first aid or rescue services available from Red Lodge Mountain. In the event of an emergency, call 911, and know that calling EMS could compromise already thin resources during this pandemic.We strongly value the safety and wellbeing of our skiers, riders, and local communities. We all must do our part to prevent the spread of the coronavirus and keep this community asset available for safe future use.
WHEN CAN I COLLECT EQUIPMENT FROM MY LOCKER?

Locker rooms will open on Tuesday, April 28 for those wanting to collect their gear. They will remain open from 9AM – 4pm, Monday – Friday. Please have your locker cleaned out by Friday, May 22. Please reach out to [email protected] with any questions
IS GRIZZLY PEAK OUTDOORS OPEN? Due to the lifting of the Stay-at-Home Order, Grizzly Peak Outdoors will reopen on Monday April 27, 2020. We ask that you please practice safe social distancing measures and utilize the hand sanitizer inside the door upon entering the building. If you're sick, please visit us another day. If you know what you would like to purchase, please call ahead place your order over the phone. We can bring your purchase to you outside.